Introduction
This document is the Release Configuration (RC) for SPORIFY. The main objective of the Release Configuration Sheet is to provide an overview of the scope and impact of all releases and to provide a description of the issues addressed and/or features that have been added or modified in the new version, as well as its potential impact on existing systems.
Product Documentation
The product SPORIFY is created with the following documentation items:
| Document | Content |
| --- | --- |
| [FS] Functional Specification | Functional Specification documents outline the desired features and behaviours of the system. |
| [RC] Release Configuration | Release Configuration outlines the changes in SPORIFY for the releases. |
| [SRS] System Requirement Specification | System Requirement Specification outlines the server and client requirements to run the system |
| [UG] User Guide | The User Guide document describes how to use SPORIFY. |
| [AG] Administrator Guide | The Administrator Guide document describes how to configure the SPORIFY components. |
| [APG] API Guide | The API Guide document describes how to interact with the Application Programming Interfaces (API) of SPORIFY. |
| [IQ] Installation Qualification | The Installation Qualification contains the steps taken to install the software on a particular environment. |
| [OQ] Operational Qualification | The Operational Qualification contains generic test cases to validate the software from a functional perspective. |
| [VP] Validation Plan | The Validation Plan describes the execution of individual OQ test cases. |
Risk Assessment
For each change item referring to a release, a dedicated risk assessment is completed based on CorrIT´s SOP - IT-013/00 - Risk Management. The individual change item refers to Risk Class, which is defined on correlation of severity and probability: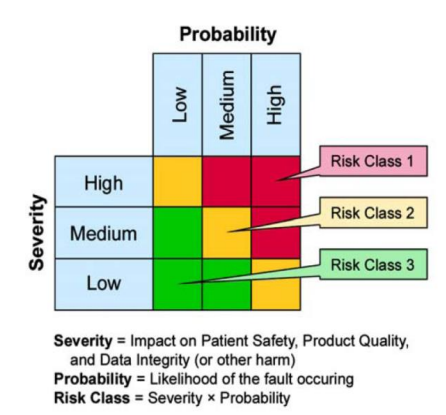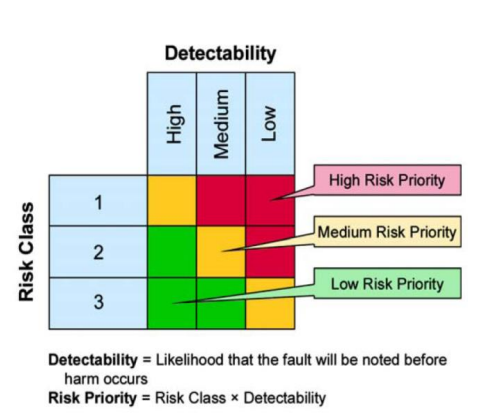 Validation
According to the implemented change control procedures, (re-)validation steps will be required when putting the application into operational use. This depends on the validation policy implemented at each customer site. We strongly suggest performing Operational Qualification (OQ) and Performance Qualification (PQ) based on a Validation Plan (VP). In addition, a thorough risk analysis and risk controlling should be performed. Due to the importance of correctness for the validation results, we recommend (re-)validating the product.
The software validation recommendations given in this document only apply for customers upgrading from a previous release. All other customers should consider performing a full validation according to the policy defined by their organisation.
For each change in the release, a Validation Impact is suggested:
Not applicable (n/a), which means that the item is not relevant to any validation procedure.

Operational Qualification (OQ), which refers to the execution of OQ validation either complete or partial.

Performance Qualification (PQ), which refers to the execution of PQ validation either complete or partial.
Changes in the Releases
Definition of Terms
ID - The unique identification number of the ticket refers to a unique entity in CorrIT´s software development system.

Type - The type the work item is based on. It´s distinguished between feature and issue.

Documentation - Refers to the changes applied to the product documentation

Priority - Refers to the priority the change was given in development (1-4).

Description - Brief description of the change.

Risk Class - Indicator for the severity and probability of the change.

Validation Impact - Recommendation to execute OQ/PQ validation procedure.

Customer Reference - Reference to a Customer Support Ticket
Version 22.3
Scheduled for the 1st October 2022:
ID

Type

Documentation

Description

Risk Class

Validation Impact

Customer Reference

Feature

FS - 526975388 - Authentication Logs

https://corrit.atlassian.net/wiki/spaces/SPORIFY/pages/532906269/AG+Administrator+Guide#Authentication-logs

UG: n/a

As a tenant admin user I want to see an Authentication Logs

New feature was added to enable Administrators to see all authentication login attempts to the user accounts of a tenant. Including search and filter functionality.

Medium

OQ

Issue

FS - 443973834 - Notifications Centre

AG: n/a

UG: n/a

SMS Update notifications not created after sync

An issue got resolved where under certain conditions user notification messages are not displayed for updates on SPOR Substances (SMS).

Medium

OQ

Feature

https://corrit.atlassian.net/wiki/spaces/SPORIFY/pages/526909457/FS+-+Session+Idle+Timeout

https://corrit.atlassian.net/wiki/spaces/SPORIFY/pages/532906269/AG+Administrator+Guide#Security

UG: n/a

As an admin user I want to set user idle timeout to log users out.

New feature was added to enable Administrator to specify the amount of time their tenant's users can remain inactive before their session times out and closes.

High

OQ

Feature

FS - 526975461 - Password Expiry

https://corrit.atlassian.net/wiki/spaces/SPORIFY/pages/532906269/AG+Administrator+Guide#Security

UG: n/a

As an Administrator, I want to configure the time when users have to choose a new password.

New feature was added to enable Administrator to manage password expiration for their tenant's users.

High

OQ

Feature

https://corrit.atlassian.net/wiki/spaces/SPORIFY/pages/527204493/FS+-+Configure+Password+History

https://corrit.atlassian.net/wiki/spaces/SPORIFY/pages/532906269/AG+Administrator+Guide#Security

UG: n/a

As an Administrator, I want to configure password history.

New feature was added to enable Administrator to manage the password histories of their tenant's users.

Medium

OQ

Feature

FS - 527040578 - RMS Change Requests

AG: n/a

UG: https://corrit.atlassian.net/wiki/spaces/SPORIFY/pages/530612310/UG+User+Guide#Change-Requests

As a user, I want to see RMS change requests of EMA

New feature was added to enable users to view RMS change requests.

Medium

OQ

Issue

FS - 21266623 - Matching Preferences (Fuzzy Matching)

AG: n/a

UG: n/a

SMS is not mapping substances containing commas

An issue got resolved where the matching of substance names in source lists containing commas, are not matched accordingly to SPOR Substances (SMS).

Medium

OQ

Issue

FS - 430213791 - Target System Activity

AG: n/a

UG: n/a

SMS is not appearing in target system activity grid

An issue got resolved where the option 'SMS Substances' in system filter of the advanced filter section at the target system activity page was not present to select for users.

Medium

OQ

Feature

https://corrit.atlassian.net/wiki/spaces/SPORIFY/pages/532906269/AG+Administrator+Guide#Change-logs

UG: n/a

As a User, I want to see all create, edit and delete event at change log

New feature was added to enable Administrator to retrieve create, edit and delete events of their tenant's users.

High

OQ

Feature

AG: https://corrit.atlassian.net/wiki/spaces/SPORIFY/pages/532906269/AG+Administrator+Guide#Audit-Logs

UG: n/a

As a User, I want to have a drop down for user selection in Audit logs

Existing feature was updated to enable Administrator to filter for user specific audit trail events

Medium

OQ

Feature

AG: https://corrit.atlassian.net/wiki/spaces/SPORIFY/pages/532906269/AG+Administrator+Guide#Audit-Logs

UG: n/a

As a User, I want to get a "clear filter" button in Audit logs

Existing feature was updated to enable Administrator to reset filter criteria on a single click.

Medium

OQ

Feature

AG: https://corrit.atlassian.net/wiki/spaces/SPORIFY/pages/532906269/AG+Administrator+Guide#Audit-Logs

UG: n/a

As an Administrator, I want to see the users´ full name in audit log

Existing feature was updated to enable Administrator to identify the users full name to the specific audit trail record .

Medium

OQ

Issue

FS - 421724487 - Veeva Integration

AG: n/a

UG: n/a

When Veeva mapping configurations change the original source list should be deleted

An issue got resolved where the source list was not updated accordingly while the configuration setting for Veeva was updated.

Medium

OQ, PQ

Feature

AG: n/a

UG: n/a

As a user, I want to have a list of all system settings and permissions

Existing feature was updated to enable Administrator to identify the individual change performed by a non technical description

Medium

OQ

Feature

FS - 541524048 - Referentials History Comparison

AG: n/a

UG: https://corrit.atlassian.net/wiki/spaces/SPORIFY/pages/530612310/UG+User+Guide#History-Comparison

As a user I want to have access to RMS history page

New feature was added to enable users to compare different versions of RMS terms records.

Medium

OQ

Feature

AG: n/a

UG: https://corrit.atlassian.net/wiki/spaces/SPORIFY/pages/530612310/UG+User+Guide#Export.3

As a user I want the option to export my RMS mappings with an additional tab to contain SPOR CSV data

Existing feature was updated to enable user to export OMS target data as the full set of SPOR OMS CSV.

Medium

OQ

Feature

FS - 430213791 - Target System Activity

AG: n/a

UG: n/a

As a user I want to see historical data in Target system activity results

Existing feature was updated to enable user to identify changes applied to individual Referentials term.

Medium

OQ

Issue

FS - 21201210 - System To System Preferences

AG: n/a

UG: n/a

custom resolution status is not replicated when uploading the same list

An issue got resolved where manual matched records of OMS source list are not replicated, while uploading the same list and having the parameter 'Apply the Resolution Status found in any source system when uploading new lists to the same target' enabled.

Medium

OQ, PQ

Issue

https://corrit.atlassian.net/wiki/spaces/SPORIFY/pages/45252715/FS+-+45252715+-+Organisations+Source+Lists?search_id=6236eb53-9d1d-43db-ab16-e10c51b55a90

AG: n/a

UG: n/a

Mapped source locations showing country name translation that doesn't exist

An issue got resolved where records of OMS source list records indicate to have languages available, while the particular language was not available.

Medium

OQ

Issue

FS - 444040187 - Data Insights

AG: n/a

UG: n/a

Filtering of Data Insights not working accurately

An issue got resolved where the duplicate locations filter options for OMS Insights was not available to select for users.

Medium

OQ

Issue

https://corrit.atlassian.net/wiki/spaces/SPORIFY/pages/443974752/FS+-+443974752+-+Exports?search_id=a4567e3a-fd52-454e-bb95-3993fcb7d2f0

AG: n/a

UG: n/a

RMS - Access denied error is displayed on Export with Spor data

An issue got resolved where under specific circumstances the export of SPOR data was displaying 'access denied message' to users.

High

OQ, PQ

Feature

FS - 442499480 - OMS Change Requests

AG: n/a

https://corrit.atlassian.net/wiki/spaces/SPORIFY/pages/530612310/UG+User+Guide#Change-Requests.1

As a User I want to see an OMS change request read only

Existing feature was updated enable users to view existing OMS change requests.

Medium

OQ, PQ

Feature

FS - 45285536 - Formatting Organisations Source Data

AG: n/a

UG: https://corrit.atlassian.net/wiki/spaces/SPORIFY/pages/530612310/UG+User+Guide#Template%3A-Formatting-Source-Data

As a user, I want to be able to import existing organisation and location mappings

Existing feature was updated to enable users to import SPOR mappings of organisations and locations, while importing source lists.

Medium

OQ, PQ

Feature

FS - 41222167 - Formatting Referentials Source Data

AG: n/a

UG: https://corrit.atlassian.net/wiki/spaces/SPORIFY/pages/530612310/UG+User+Guide#Template%3A-Formatting-Source-Data%3A

As a user, I want to be able to import existing RMS terms mappings

Existing feature was updated to enable users to import SPOR mappings of RMS Terms, while importing source lists.

Medium

OQ, PQ
Version 22.2
Scheduled for the 3rd July 2022, this release contains:
ID

Type

Documentation

Description

Risk Class

Validation Impact

Customer Reference

Issue

Veeva Referential Sync Issue

Medium

OQ

12223

Feature

As as Veeva sync user I need the substance sync to take the SPOR id and XEVMPD id from SMS and not the other substance systems

High

OQ, PQ

Issue

Inactive Data governance Status is displayed in Governance pop up

Medium

OQ

Issue

Match on sync notification fired when suggestions are set

High

OQ, PQ

Issue

Cannot see change log entries for changes made outside Sporify

High

OQ, PQ

Issue

Sync Log - Status shows as Success but traversing in the log it states exception

High

OQ

Issue

On deleting source list(in all integrations) no entry reflecting in change log

High

OQ, PQ

Issue

FS - 442565696 - Substances Source Lists

FS - 45252715 - Organisations Source Lists

Source Terms - Manual insert via UI dialog lets you add duplicate term, organisation and substance ( id/ name)

High

OQ, PQ

Issue

Change Log - From values are not captured properly. Attachment provided with steps

High

OQ, PQ

Issue

FS - 442565696 - Substances Source Lists

FS - 45252715 - Organisations Source Lists

Editing and saving a source item in Organisations, Referentials and Substances does not change updated timestamp at source list level

High

OQ

Issue

Substance mapping seems to be making unnecessary changelog entries

High

OQ

Feature

As a user I should be able to have Changelog without having Data Governance

n/a

OQ, PQ

Issue

Changelog attributing a change to the incorrect user

Medium

OQ

Issue

FS - 442565696 - Substances Source Lists

FS - 45252715 - Organisations Source Lists

Source file upload not ignoring blank rows on import

High

OQ, PQ

Issue

FS - 442565696 - Substances Source Lists

FS - 45252715 - Organisations Source Lists

If a tenant has the "Auto Govern" setting enabled they cannot remove data governance for a target if ANOTHER tenant is mapped to that target

High

OQ

Issue

Duplicate entries appearing in the changelog (possibly due to duplicate mappings)

High

OQ

Feature

As a user I want access to substances from the SMS CSV

n/a

OQ, PQ

Issue

source term dates not updating after mapping

Medium

OQ

Issue

redact user information from audit log

Critical

OQ
Version 22.1.2
Released on the 22nd May 2022, this release contains:
ID

Type

Documentation

Description

Risk Class

Validation Impact

Customer Reference

Feature

n/a

As an internet user I want access to updated public agreement documents

Low

n/a

Issue

Incomplete Veeva CSV import/export file being downloaded

Medium

OQ

Issue

Source items appearing more than once due to duplicate data governance entries

Medium

OQ

Issue

Changelog Timestamp is not accurate after source term mapping

High

OQ, PQ

Issue

EU-SRS

EU-SRS updated date showing created date

n/a

n/a

Issue

Creation Dates/Times being displayed in Updated Dates/Times column

Medium

OQ

Feature

n/a

As a user I want to have the User, Admin and API Guides updated

Medium

OQ, PQ

Issue

Change Governance Status Approve to Passed as part of Tenant Creation Process

Medium

OQ

Issue

Notifications based on last login time are not replacing previous notifications

Medium

OQ

Issue

Highlighting bug for RMS suggestions

Medium

OQ

Feature

As a user I want to be preventing from making any duplicate/invalid Veeva Mapping Configurations

Medium

OQ

Issue

Veeva manual sync - No need to notify if no records are available for review

Medium

OQ

Issue

EU-SRS

EU-SRS mapping issue

n/a

n/a

Issue

Veeva sync job detail exceptions should display in the UI

Medium

OQ

Issue

Approver is not able to approve EUTCT Vet record from detail page

Medium

OQ

Issue

"From value" and "To Value" filters are not working in change logs

Medium

OQ

Issue

Changelog Timestamp is not accurate after source term mapping

Medium

OQ, PQ

Issue

Veeva Sync getting 404 when non-admin user loads file

Medium

OQ

Issue

Outbound links to G-SRS are now invalid

Medium

OQ

Issue

Organisation insights missing from target organisations grid

Medium

OQ

Issue

As a user, I only want to receive a review required notification if an item is actually in the pending review stage

Medium

OQ, PQ

Feature

FS - 442565696 - Substances Source Lists

FS - 45252715 - Organisations Source Lists

As a user I want to have Export All option available for Source Lists (OMS, RMS)

Medium

OQ, PQ
Version 22.1.1
Released on the 8th May 2022, this release contains:
ID

Type

Documentation

Description

Risk Class

Validation Impact

Customer Reference

Issue

EU-SRS

EU-SRS mapping issue

n/a

n/a

Issue

Broken links in Notifications and Detail pages

Medium

OQ

Issue

FS - 442565696 - Substances Source Lists

FS - 45252715 - Organisations Source Lists

Auto mapped notifications for RMS OMS & SMS not being received by "system wide" users

Medium

OQ

Feature

As a user I want my changelog grid to be faster

Medium

OQ, PQ

Issue

Map Substances is updating LastModificationTime on Multiple Choice items unnecessarily

Medium

OQ

Issue

Target Referentials page not showing correct data using language filter

High

OQ

Issue

Veeva Vault not working with different column headers

Medium

OQ, PQ

Issue

Manual notifications should not be received by the user performing the Data Governance action

Medium

OQ

Issue

FS - 483754047 - Data Governance Notifications

No notification of ready to review on manual mapping for RMS

Medium

OQ

Issue

FS - 483754047 - Data Governance Notifications

ID can not be found error is occurring when clicking on ready to review notification for location in organisations

Medium

OQ

Issue

FS - 483754047 - Data Governance Notifications

Error on clicking summary notification for RMS after manual syncing

Medium

OQ

Issue

Downloading of export Veeva export CSV not working

Medium

OQ

Issue

EU-SRS

As an EUSRS user I want to have a Product Count column

n/a

n/a

Issue

Veeva Background Job cannot restart if it fails at a certain stage due to already having a CSV entry

Medium

OQ

Issue

Shields are clickable from details page when data governance permissions are unchecked

Medium

OQ

Issue

Shields are not available in Organisations details page when data governance permissions are unchecked

Medium

OQ

Issue

Notification for manual map in ORG is displayed even when Data Governance is off

Medium

OQ

Issue

FS - 46137572 - Search and Filter Organisations Source Lists

Location mapped icon is not clickable in ORG source list when data governance settings are OFF

Medium

OQ

Issue

Governance Statuses Created By and Modified By columns are not showing the usernames

Medium

OQ

Feature

As a SPORIFY sync user I want to delete data from the change log

Medium

OQ, PQ

Issue

Veeva sync hanging on mapping

Medium

OQ/PQ

Issue

Date range filter in job log screen is not working

Medium

OQ

Issue

Approver is not receiving notification to approve for EUTCT Vet

Medium

OQ

Issue

Internal error on detail page for EUTCT, EUTCT Vet and G-SRS

Medium

OQ

Issue

Internal error on notification for EUTCT Vet

Medium

OQ

Issue

Pending Review status is shown even after you apply a status on the record for EUTCT Vet for Source substance

Medium

OQ

Issue

Governance shield is missing on Substance detail page for EUTCT, EUTCT Vet, G-SRS

Medium

OQ

Issue

Error on Governance Settings when logged in for the first time in a tenant with data governance feature

Medium

OQ

Issue

Shields are available for organisations/source lists when data governance is off

Medium

OQ

Issue

FS - 435617793 - Organisations

Substance , Organisations and Referentials Source List throwing error

Medium

OQ

Issue

ID can not be found error for location in organisations

Medium

OQ/PQ

Issue

Improve performance in change request list

Medium

n/a

Feature

As a user I want to export the target CSV with a direct call to the SPOR API

n/a

OQ

Feature

As a user I want to save the log for Veeva Sync

Medium

OQ, PQ
Version 22.1
Released on the 3rd April 2022, this release contains:
| ID | Type | Documentation | Description | Risk Class | Validation Impact | Customer Reference |
| --- | --- | --- | --- | --- | --- | --- |
| | Issue | | RMS and OMS mapping to non-current items | Medium | OQ | |
| | Issue | | Error exporting RMS source lists | Medium | OQ | |
| | Feature | n/a | As a user I want access to policy PDFs via URL | n/a | n/a | |
| | Feature | | As a user I want mapping (upload or sync) to not map when a source item's resolution status has "maintain mapping" off | Medium | OQ, PQ | |
| | Issue | | Mapping notifications are sent to wrong tenants | Medium | OQ | |
| | Issue | | Sporify sync governance reviewer notifications should only go to reviewers in the tenant | Medium | OQ | |
| | Issue | | ATC codes missing from source and target export for ATC lists | Medium | OQ | |
| | Issue | n/a | SQL performance updates | Medium | OQ | |
| | Issue | | Referential governance status and Ref stage name is not displaying in Downloaded excel file | Medium | OQ | |
| | Issue | | Search icon is not displayed in Controlled vocabulary type Drop down | Medium | OQ | |
| | Issue | | New matching badge giving wrong number on source lists for OMS, RMS & SMS | Medium | OQ | |
| | Feature | | As a sync user I want to run governance notifications on SPORIFY sync | Medium | OQ, PQ | |
| | Feature | | As a user I want to see the data governance modal at all time also when I can not govern a record | Medium | OQ | |
| | Issue | | Updated date on Source Term page not updating | Medium | OQ | |
| | Feature | | As a user I want to see data governance entry in the SPORIFY activity panel in the dashboard | Medium | OQ | |
| | Feature | | As a user I want all source list under the Veeva source system read only | Medium | OQ, PQ | |
| | Issue | | Mapping failing during Veeva sync | Medium | OQ | |
| | Feature | | As a user I want to see the Veeva sync log | Medium | OQ, PQ | |
| | Feature | | As a sync user I want to set resolution status to selected value when mapped target data changes | Medium | OQ, PQ | |
| | Feature | | As a sync user I want to save history for RMS lists and terms | Medium | OQ, PQ | |
| | Issue | | G-SRS API sync URL is out of date | Medium | OQ | |
| | Issue | | Error saving SPOR credentials | Medium | OQ | |
| | Feature | FS - 435617793 - Organisations | As a user I need to save version and status when mapping OMS and RMS | Medium | OQ, PQ | |
| | Feature | | As a sync user I want to call a Veeva sync for each tenant schedule | Medium | OQ, PQ | |
| | Feature | | As a sync user I want to sync a target from a specific date | Medium | OQ, PQ | |
| | Feature | | As a sync user I want a full sync to become a delta sync with no date | Medium | OQ, PQ | |
| | Feature | | As a sync user I want to run mapping and notifications for each target | Medium | OQ, PQ | |
| | Feature | | As a sync user I want to delete unchanged records from staging tables before loading data | Medium | OQ, PQ | |
| | Feature | | As a sync user I want to be able to sync any OMS OrgId or LocId and RMS ListId and TermId individually | Medium | OQ, PQ | |
| | Feature | | As a sync user I want to save history for OMS organisations and locations | Medium | OQ, PQ | |
| | Feature | | As a user I need VersionTimestamp field added to Organisation and Location details | Medium | OQ, PQ | |
| | Feature | | As a user I want to have access to the change log and excel export | Medium | OQ | |